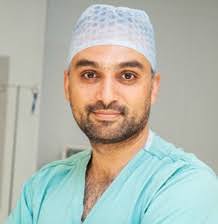 Mr Arjun Takhar
Mr. Arjun Takhar is a Consultant in Hepato-pancreatico-biliary (HPB) and General Surgery at University Hospitals Southampton NHS Trust and at Spire Hospital Southampton. He is an Honorary Senior Lecturer at Southampton University Medical School and is the Royal College of Surgeons of Edinburgh, Regional Surgical Advisor for Wessex. Mr Takhar graduated from the University of Nottingham Medical School in 1998. He completed his basic surgical training in Birmingham including time as Honorary Clinical Lecturer in the Division of Anatomy at Birmingham Medical School.
Mr. Takhar went on to complete a PhD by thesis in Gastrointestinal Surgery at the Academic Unit of Cancer Studies at the University of Nottingham under the supervision of Professor Brian Rowlands and the late Professor Susan Watson. During his time in research, Mr. Takhar was shortlisted for the Patey Prize and the SET for Britain Millenium Medal for Britain's Younger Scientists. He completed higher surgical training with specialisation in HPB Surgery and Liver Transplantation in the West Midlands with time predominantly spent at the Birmingham Liver Unit. This was followed by a yearlong Fellowship in Laparoscopic (keyhole) HPB Surgery under the mentorship of Mr. Neil Pearce at University Hospitals Southampton. Mr. Takhar was awarded the Fellowship of the Royal College of Surgeons (FRCS) in General Surgery in 2010 and the Certificate of Completion of Training (CCT) in March 2013.
Mr Takhar offers surgical treatments for a range of general surgical conditions such as abdominal wall and groin hernia and gall bladder surgery. Mr Takhar's sub specialist expertise lies in the treatment of benign and malignant disorders of the liver, gall bladder and pancreas. He also has a special interest in minimally invasive surgical techniques (keyhole surgery) and in the treatment of locally advanced pancreatic cancer. Mr Takhar and his colleagues are members of the first team in the UK to treat locally advanced pancreatic head cancers with intra-operative radiotherapy. Mr Takhar is also a core member of the Wessex neuroendocrine tumours team which has the status of European Centre of Excellence for treatment of neuroendocrine tumours (NETS) in the abdomen. In addition, Mr Takhar has an interest in ocular melanoma liver metastatic disease and in multi-organ resections for large abdominal tumours. Mr Takhar has published academic papers on pancreatic cancer, minimally invasive techniques in surgery of the liver, pancreas and gall bladder as well as on the basic biology of cancer.
Mr Takhar is the lead for surgical teaching for year 3 medical students at Southampton University Medical School. In his role as a Regional Surgical Advisor for the Royal College of Surgeons of Edinburgh, he plays an active part in encouraging and training surgeons of the future.