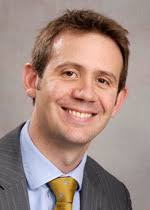 Mr John Knight
Mr John Knight is a consultant colorectal & general surgeon and was appointed to University Hospital Southampton (UHS) in 2008. Mr Knight trained at Saint Bartholomew's Hospital, qualifying in 1996.
John is experienced in the surgery and management of patients with all manner of colorectal conditions including bowel cancer, inflammatory bowel disease, diverticular disease and benign proctology (including haemorrhoids, anal fissure and fistulae). He performs both diagnostic and therapeutic colonoscopy. Mr Knight also has a general surgical interest in hernias, in particular laparoscopic groin hernia surgery.
A major part of Mr Knights practice is the management of patients with bowel cancer. When first starting at Southampton He led the development of laparoscopic (key hole) surgery and enhanced recovery for the treatment of patients with bowel cancer becoming the Lead for the Southampton Colorectal Cancer multidisciplinary team, and working closely with commissioning teams and research groups to improve colorectal cancer outcomes.
In addition Mr Knight is a core member of the regional Wessex Neuroendocrine Tumour (NET) multidisciplinary team in Southampton which is a certified European centre of excellence. NETs are uncommon types of cancer that can arise in all parts of the body. John specialises in the surgical management of these cancers for Wessex, when they occur in the small intestine, appendix, and large bowel.
Southampton is the regional teaching hospital and John is closely involved in post graduate training, holding the role of Royal College of Surgeons Surgical Tutor at Southampton for five years and  now the regional Training Director for the Wessex Core Surgery Programme. He is also Lead for consultant appraisal in surgery at Southampton, remains actively involved in audit and continues to support clinical research.
Outside of medicine John is married to Kate, who is a local GP. They live in the New Forest with their two children. He enjoys cycling, swimming & skiing, and race triathlon.