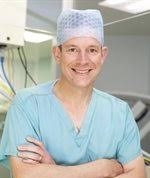 Mr Thomas Armstrong
Tom is a surgeon with a dedicated interest in liver, pancreatic, bile duct, gallbladder and hernia surgery (HPB Surgery). He is clinical lead for this highly specialised area of cancer surgery that provides a regional service to patients across the South Coast of England and the Channel Islands. He trained in an era when HPB surgery had been centralised to major hospitals and is in the vanguard of modern surgeons who have benefited from very intensive training. He completed this in the UK and Australia, in Centres renowned for minimally invasive (keyhole) surgery.
Tom works closely with many dedicated specialists from anaesthetics, medicine, radiology, and oncology to ensure that every patient benefits from the most up to date treatment. He monitors his outcomes through the Association of Upper Gastrointestinal Surgeons (AUGIS) on the SWORD database. This independently collected data indicates that he performs a significantly greater number of major operations, with shorter post-operative hospital stay and lower mortality rate than the National average.
He has also operated on countless patients with gallstones and hernias. He receives many referrals from surgeons based in other local hospitals for advice and help in managing patients with challenging gallstone disease.
Tom leads the Wessex Neuroendocrine Tumour Group, a European Centre of Excellence for treating patients with neuroendocrine/carcinoid tumours.
The feedback Tom gets from patients is consistently positive. He feels that the high number of health care professionals and their relatives who he treats these days vindicates his approach.
Tom's free time is spent with his wife and children, preferably outside and ideally by the sea. He enjoys sailing, cycling and trying to play golf.
Scope of Practice:
PANCREAS
Cancer of the pancreas
Pancreatic cysts
Neuroendocrine or carcinoid tumours (NETs)
Acute pancreatitis
Chronic pancreatitis
LIVER
Primary liver cancer (hepatocellular carcinoma)
Secondary liver cancer (from bowel cancer, NETs and other rare tumours)
Liver cysts
Neuroendocrine Tumour
BILE DUCT
Bile duct cancer (cholangiocarcinoma)
Bile duct stones
Bile duct strictures (narrowings)
NEUROENDOCRINE or CARCINOID TUMOURS
Pancreatic neuroendocrine tumour
Duodenal neuroendocrine tumour
Carcinoid Tumour of the bowel
Paraganglioma
GALLBLADDER
Gallstones
Gallbladder cancer
Bile duct stones
DUODENUM
Duodenal cancer
SMALL BOWEL
Small bowel cancer (jejunum and ileum)
HERNIA
Groin (inguinal/femoral)
Umbilical
Epigastric
Incisional